Dette prosjektet startet med at jeg kjøpte meg en robotgressklipper. En Gardena R-160. Dette er en fiffig liten sak, men ikke særlig smart.. For at klipperen skal nå den plena som er på øvre side av huset, må den krysse veien. Da er den i høyeste grad utsatt for påkjørsel... For å unngå dette, tenkte jeg å få den til å gå dit bare på natta når det ikke er traffikk. Dette viste seg imidlertid å ikke være mulig med robotklipperens inteligens, så da var det bare å begynne å tenke nytt.... Fant ut at det gikk an å "lure" den ved å koble om kantsløyfa, altså disse ledningene som ligger langs kanten av plena. Med 3stk releer fra Biltema, så kan jeg nå åpne og lukke sløyfa for øversiden av huset. Dette måtte selvfølgelig styres automatisk, så da ble Propeller`n fra Parallax nok en gang satt på saken. Når det nå først ble brukt Propeller, så var det naturlig å tenke på andre oppgaver som den kunne fordrive tiden med i tillegg til sløyfestyringa for Gardena-klipperen. Bygde et "moderkort" med 5 inputs og 5 releutganger, samt 4 analoge innganger, som Propeller-kortet ble plasser på. Nå styrer den også pumpene i hagedammene og pyntebelysningen i hagen. Lysene tennes og slukkes ut fra lysmåling via en av de analoge inngangene. Pumpene starter og stopper til faste programmerte tider. Pumpene stopper også hvis det blir regn. Dette via en sensor for vann på den ene analoginngangen. Ingen grunn til at fontenen skal stå på i regnvær, når ingen gidder å stå ute å se på den...Moderkortet har også påbygd klokkekrets (RTC) . Styringen kommuniserer med resten av overvåkingssystemet mitt via RS-485 databus. Her er diverse bilder av prosjektet:
Project started out when I bought a Robot lawnmower, a Gardena R-160. I thought I was going to get this robot to work at two different lawns at different times a day, but it was`nt smart enough to do that... The built-in time-switch could not be programmed to certain area to start mowing, even when there was programmable 3 different areas. The problem is that when the robot is going to reach the area at the upper side of the house, it has to cross my driveway. I didn`t want my Gardena robot to die in a car-accident, you know... The only way to prevent that, was to let him cross the road only at night-time when there`s no traffic. Then I had to figure out how to "trick" this guy... Propeller did it. The robot lawnmower works within a "fence" made by a cable all the way around the lawn. It also hava a guide-cable in the middle of the lawn, wich is the ove the robot follows out to the decided area and also follow back to the charger. So I connected the guidelines from the upper lawn to the guidelines at the lower lawn to 3x 12v relays. So now, when the relays are not active, the fence stops the lawnmower before he reach the driveway. At night-time, the relays are all active, and the fence is open for the upper lawn. At the same time the Propeller activates red blinking LED-lights at the warning signs by the road. Cool....
The "mother-card" for the Propeller also have a ADC-0834, a RS-485 bus driver and a RTC. So I had to figure out some more to let the Propeller control than only the relays for the lawnmower loop. Could be very boring for him...? I decided to let him control the garden dam fountain pumps and the garden decor lights. ADC inputs are connected to a LDR for light sensing and two water sensors. LDR controls on and off for the lights. One of the water sensors is mounted in the lower dam. This one tells the Propeller if its water in the dam or not. Pumps can`t start without water in the dam, you know.. The other water sensor stops the fountain pumps when it starts rain. No-one stands out anyway in rainy wheather to see a fountain...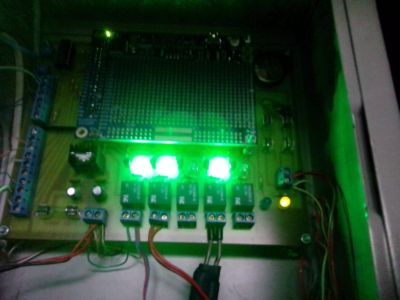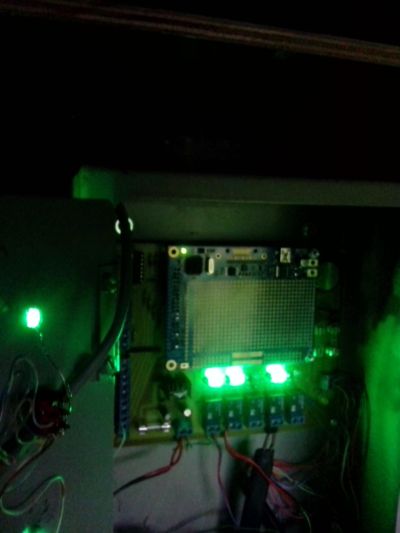 Over ser du Propellerstyringen med releutganger.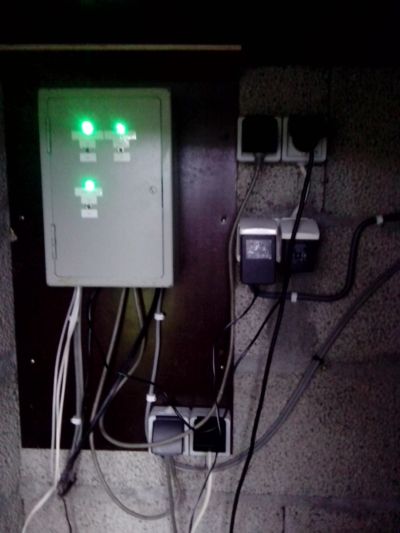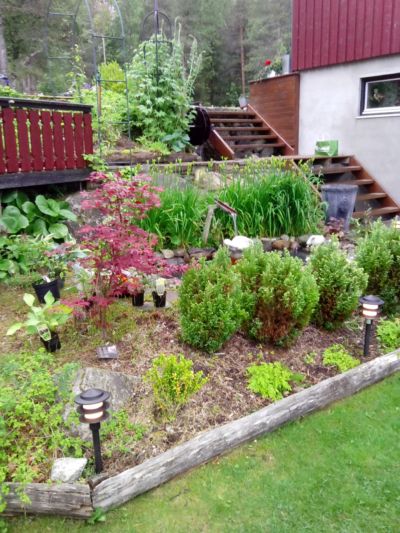 Styringen er montert i en liten "bunkers" under en terasse. Her står også dampumpene.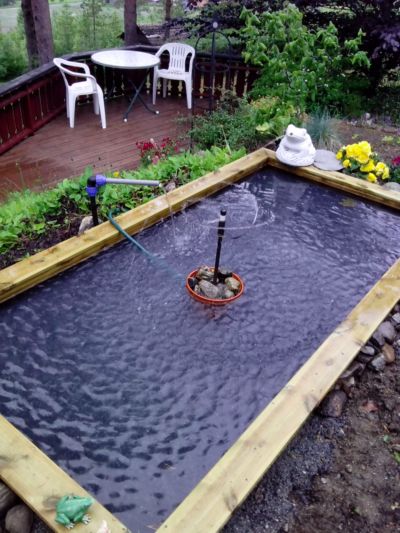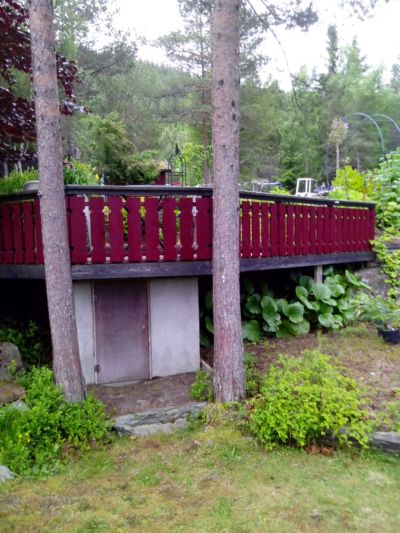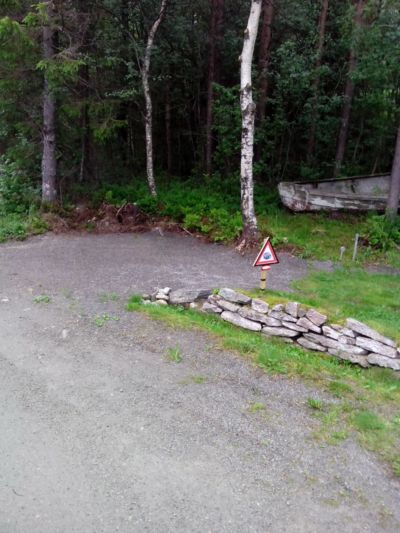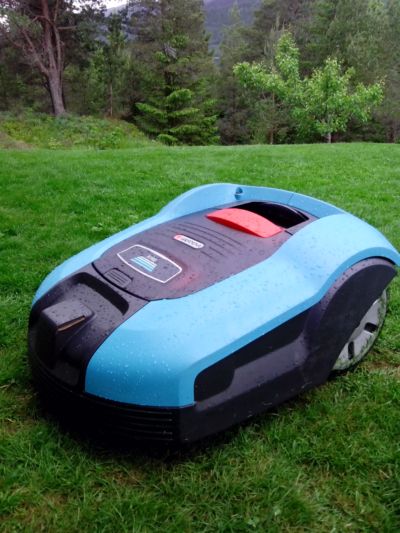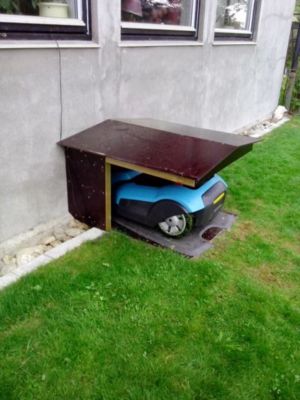 Gardena R-160. Den har fått eget hus på plena på nersida. Her er det også montert grønne LED-lys. (Klipperen er mørkredd...) og en sensor som forteller overvåkingssystemet om den er "hjemme".
Here it is, the Gardena R-160 with his own house at the lawn downside my house. The house also have a sensor that tells the Propeller if the lawnmower is "home" or out working. When the lawnmower is in the charger, the blinking LED`s at the warning signs stops blinking. Even when the loop for the upper area is open. Propeller also use the "home"-sensor to know if the loop can be closed. When time is 05.00 in the morning, it`s time for the loop to be closed. But this can`t be done before the lawnmower has reached the base at the lower lawn. This is to prevent the robot to be "locked out". (if the lawnmower can`t sense the guidelines signal, it stops. Can only be started again with the right PIN-code.)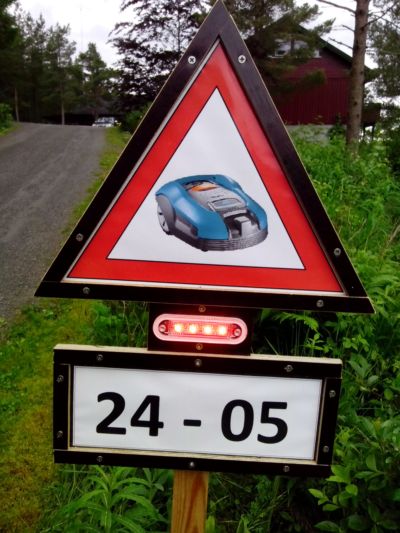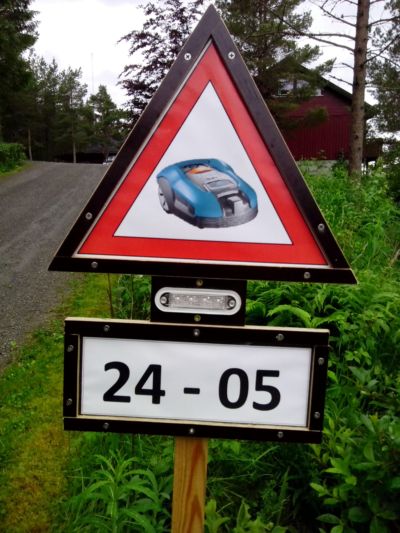 Måtte selvfølgelig også ha fareskilt på begge sider av veien der klipperen passerer om natta. (sløyfa er åpen fra midnatt til 05.00 om morgenen) På skiltene er det også montert røde LED-lamper som blinker når klipperen er ute og går.
Så da fikk jeg lurt robotklipperen til slutt. Nå klipper den på øvre side av veien og huset hver natt på hverdager og på nedre side av huset på dagtid. I helgene får den fri. Artig prosjekt dette også.
WARNING signs with red blinking LED. Fun sommer project 2015.