Kraftverket ble bygd i 1996 og ble første gang startet rett før jul det året. Da hadde jeg bare en synkrongenerator som forsynte deler av huset med strøm. Ytelsen var ca 1100W. Dette ble litt tungvint å regulere, så året etter ble det installert en asynkrongenerator som arbeider mot strømnettet. Dette ble starten på en lang rekke ombygginger og modifiseringer. Det er artig å eksprimentere med slikt... I 1997 ble det også bygd ny turbin. Denne hadde vesentlig bedre effektivitet enn den første og uttatt effekt kom opp i 1500W. Etter at inntaksdammen og turbinrøra ble fornyet, kom effekten opp i 1700W. Med enkel regulering for stopp og start, har kraftverket vært i drift automatisk når det er vann nok i bekken. Uttatt energi har ligget på ca 4-5000 kWh pr år.
Nå på våren 2014, ble det installert ny styring av stasjonen. Turbinen ble også overhalt og generatoren skiftet. Maks effek er nå like under 2kW. Styringen er bygget på en 8-kjernet prosessor fra Parallax. Nå har jeg mulighet for å kjøre stasjonen vannstandsregulert, dvs den regulerer pådraget etter tilsiget i dammen. Vannspeilet i dammen holdes dermed ganske konstant like under overløp, og fallhøyden kan dermed utnyttes maksimalt. Har lagt ut noen bilder fra prosjektet her. Noen kommentarer er på engelsk (til ære for mine venner på Parallax Forum, som har vært interessert i prosjektet)
Inntaksdammen med tilhørende kontrollutstyr. I den røde røra, går det ned slanger for pressostatene til gammelstyringens start og stopp. I den grønne røra er det plassert en trykktransmitter for den nye styringen.
Here is the dam where the power-station gets its water from. Dam is about 100 cubic meeters volum. Fall height down to the powerstation is about 23m from the top level of dam. Water runs down a 70m long PE pipeline with a diameter og 8".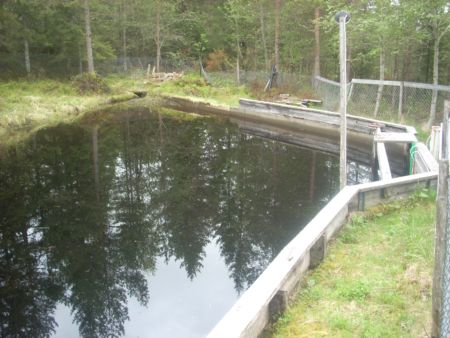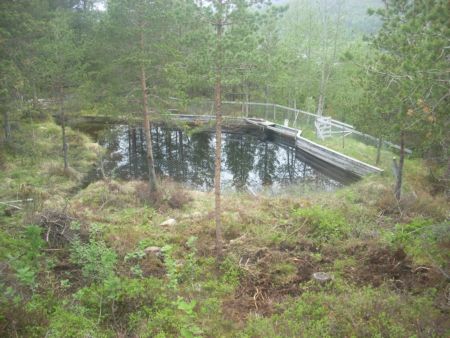 Et lit rødt hus på ca 2x2 m... Slitt av tidens tann.
A small little house. Inlet water pipe to the left, water outlet at the right. Built in 1996.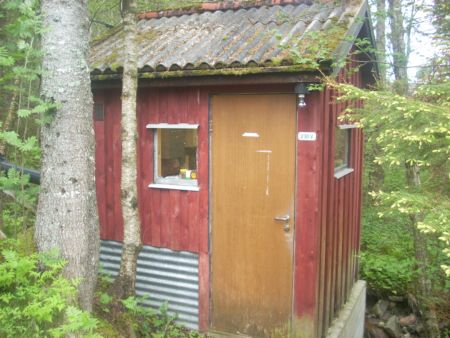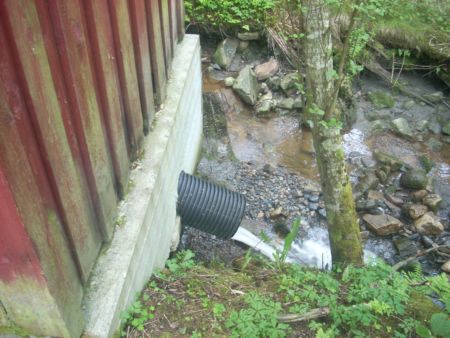 Turbinen er bygd etter Pelton-prinsippet. På grunn av liten fallhøyde, går den bare med ca 400 o/min og må derfor gires opp mot generatoren som skal gå med i overkant 1500 o/min.
Pelton turbine. Built in 1997 and restored in 2014. Runs at about 400 rpm. Need a V-belt gear up to asynchronous generator. Generator runs at about 1540 rpm @ 100% forcing on turbine. Generator is a 4-pole, 3-phase asynchronous motor. As a motor, this one will run at about 1470rpm, as the synchronous speed in the main coil is 1500rpm. If you simply feed a motor like this with rpm`s over the synchronous speed, you have a generator. Easy... This assumes that the mains grid is connected, as the motor has no excitation system. Magnetism is set up from reactive energy from mains.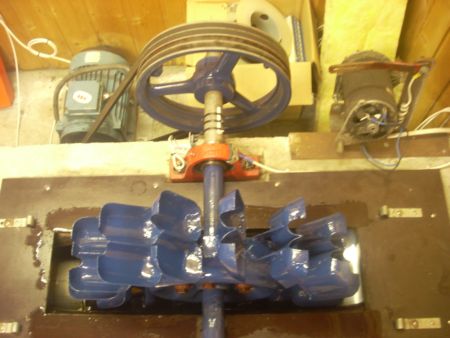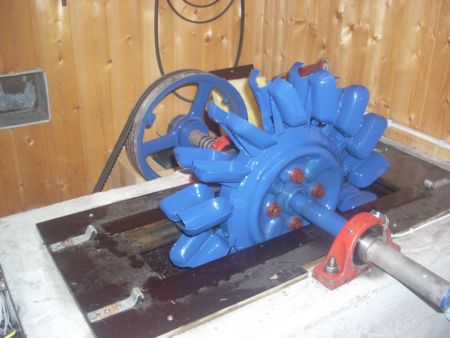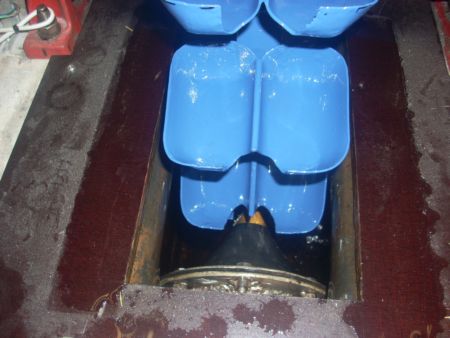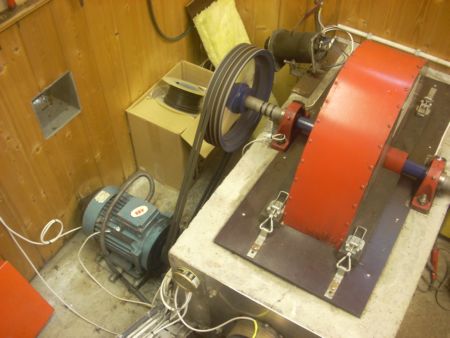 Asynkron generator( som er det samme som en såkalt kortslutningsmotor.
Asynchronous generator. (3-phase motor at 2,2 kW)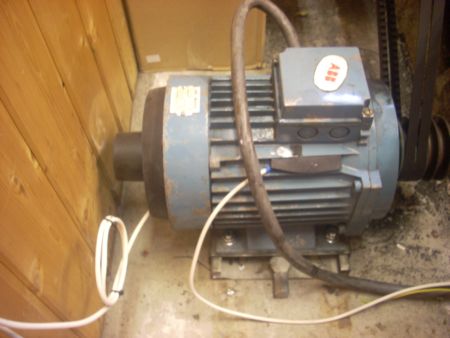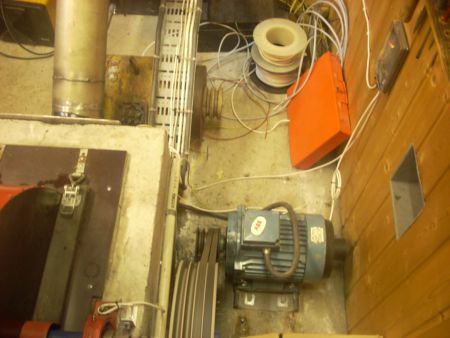 Ledeapparat og styreservo for dysenål.
Turbine inlet pipe with regulation needle servo. Servo is built from a 12V DC windshield whiper motor. Microswitches is for the old control system. Axial potmeter is position sensor for the Propeller control system.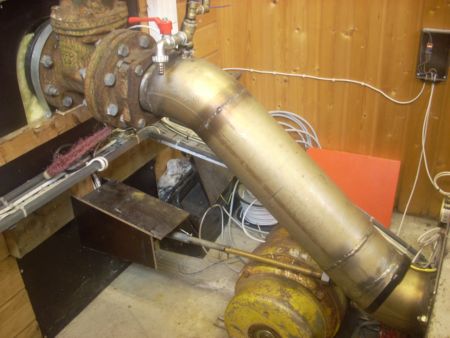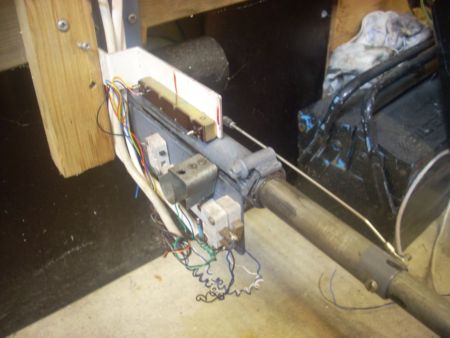 "Kontroll-veggen.."
"The control wall.." The leftmost box, contains the old relay control system for async gen. In the middle, the new Propeller control system. To the right, you see a control system for my second generator. That`s a synchronous generator that can be started as a "emergency" power delivery for my house when the mains is out of service. With abt 1800W output, I can have enough power for lights, TV, freezers etc.. Fun. Not that often that`s use for it, but its a great exprimental thing to have. New control for this generator is also implemented in the Propeller control.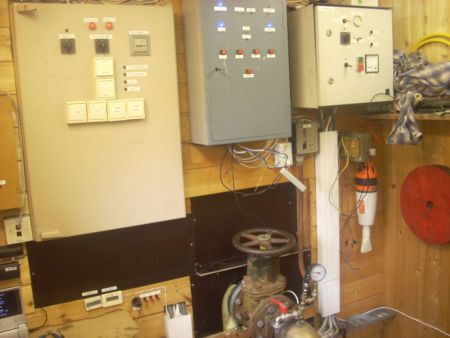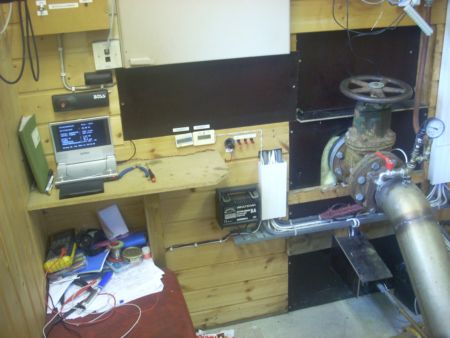 Gammel VS ny
Old control versus new...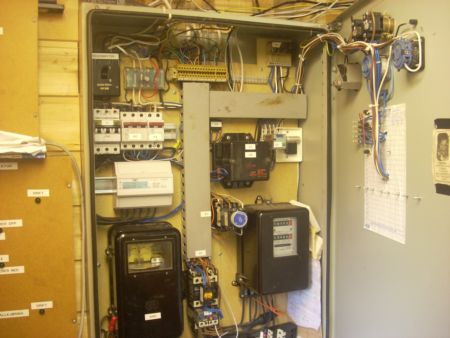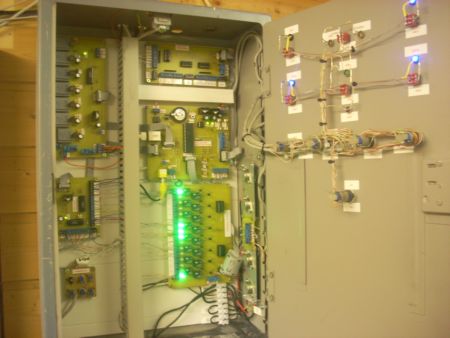 Hovedkortet til høyre.
Main board with Propeller to the right. This board also contains RS-485 bus driver, RTC, power supply regulators, trimmers for taco-inputs and TV output for monitor.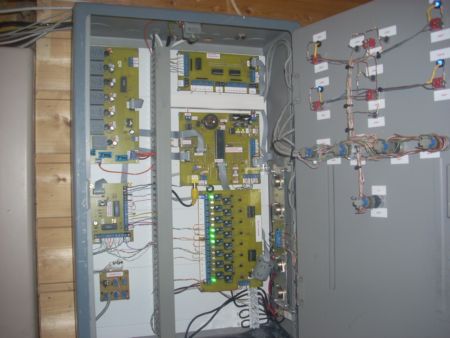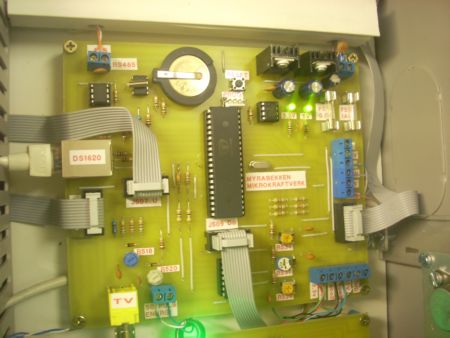 Spenningsmåling til venstre, digitale innganger til høyre.
Voltage measure board with ADC 0838 to the left. Digital inputs to the right. 3xSN74HC165 shift registers talks to the processor.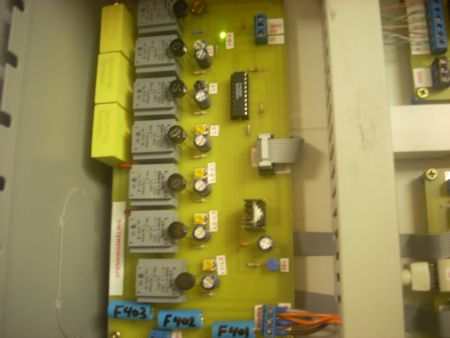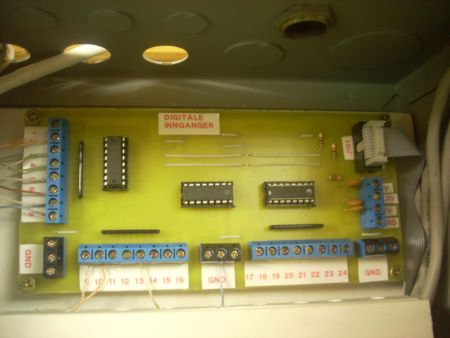 Analoge innganger og trimmekort for justering av diverse settpunkter.
16 x analog inputs to the left. Pot`s for adjusting setpoints to the right.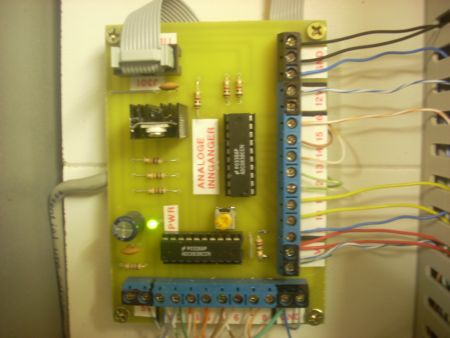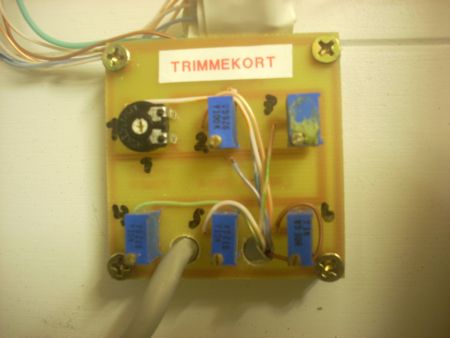 Releutganger og transistorbru for turbinservo
Relay output board with 16 channels. 2xSN74HC595 shift registers talks to the processor. Transistor H-bridge to control the turbine needle valve. (forcing) All boards connected to main board with ribbon cables. To this board, it runs through a ferrite core to get rid of RF-noise.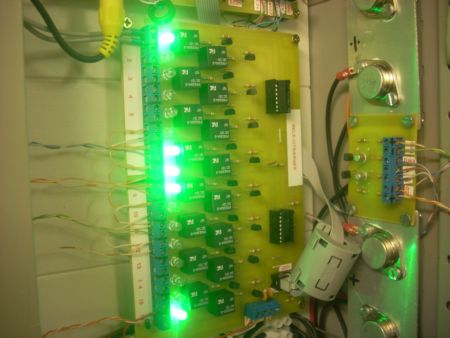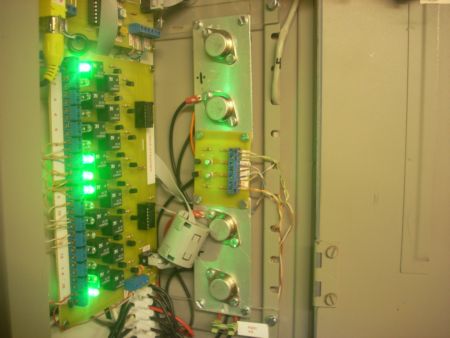 Trykkmåling på turbinrøra. Turteller-modul for generator og turbin til høyre.
Turbine pressure measurement to the left. A 0-5V, 60PSI transmitter is connected to an analog input for read-out. To the right, there is a tacometer-module for generator and turbine. Thanks to e-bay for all this made-in-china-funny-to-have-stuff........ It works.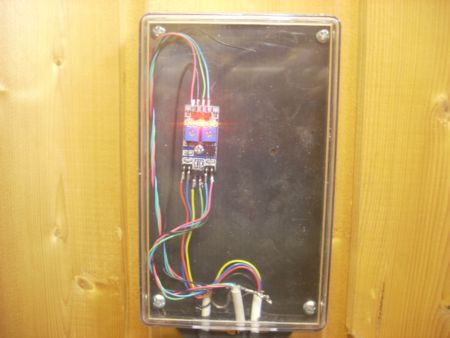 Kontrollskjermen hvor alle data kan leses ut. Skifter mellom forskjellige skjermbilder med den røde knappen i boksen over skjermen.
"Control-desk". Using an old car-DVD-player as a monitor for the system. Got it from my friend Moskog. Thanks again buddy.. The red control switch in the Boss-box, is a 12-step switch where I connected an array of resistors. This is all connected to a analog input and I use that for switching between different TV-screens. See futher down the site.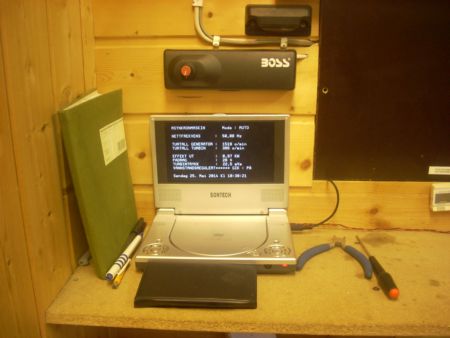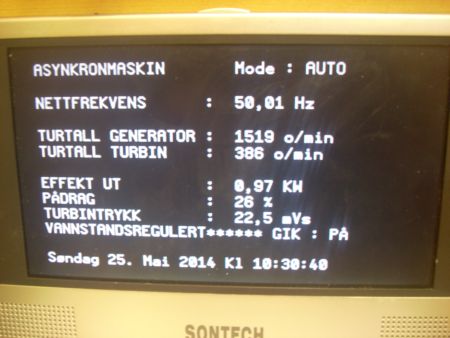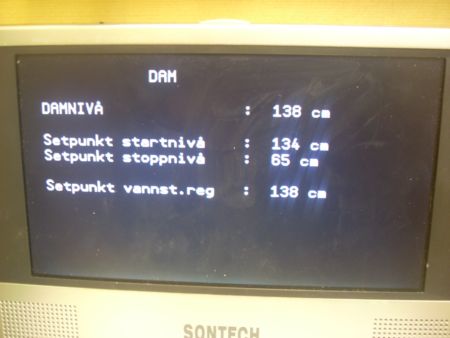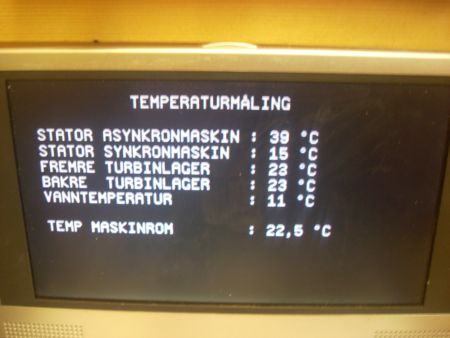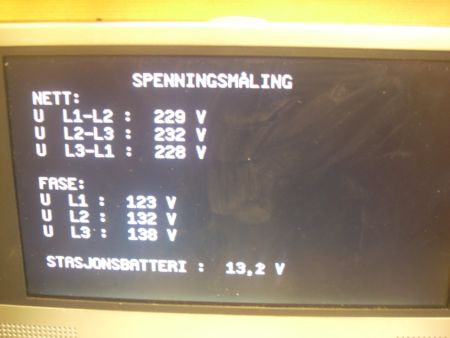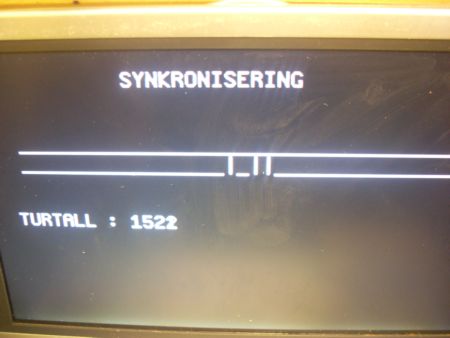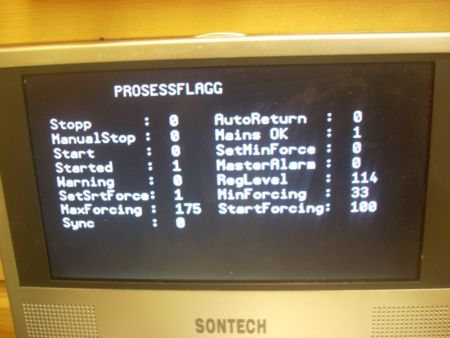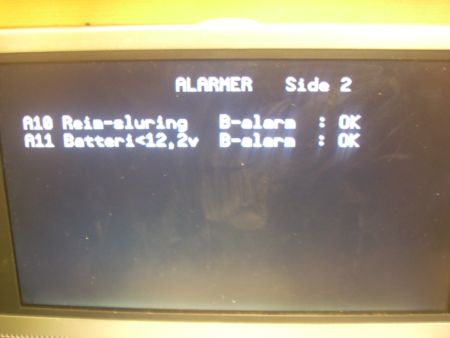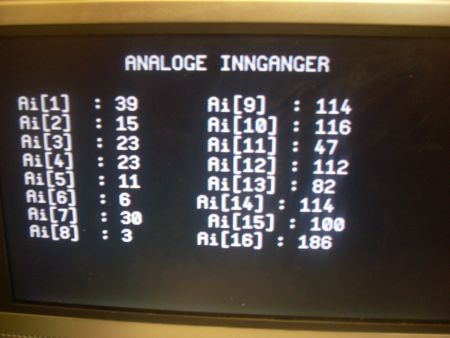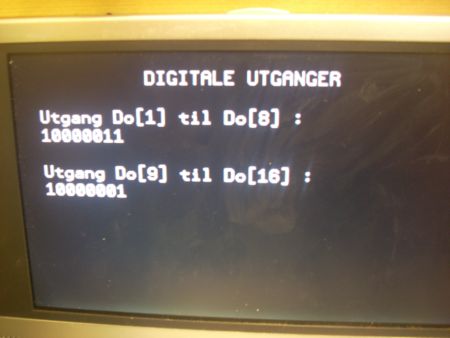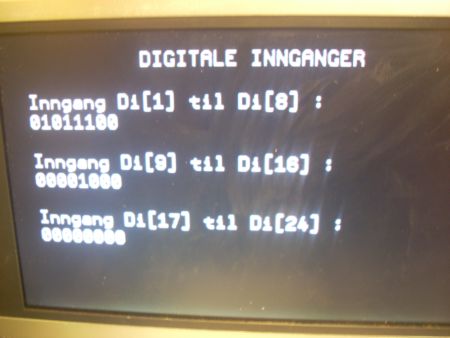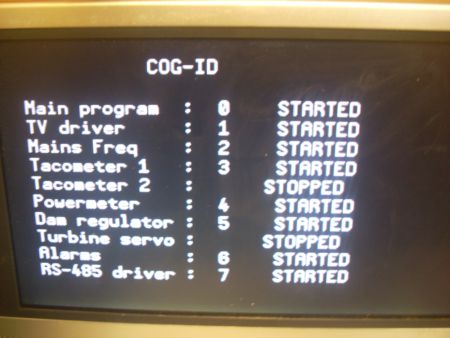 Synkronmaskinen. En gammel sleperingsmotor som er omkoblet.
Synchronous generator for "emergency" power. This is an old slip-ring motor, 3-phase, 3kW. I have connected all rotor coils in series to form a 4-pole magnet. The excitation current comes from an old DC tractor generator that`s hooked on the turbine V-belt wheel when this machine is running. Now the Propeller have to controll the speed of this machine through open and close the turbine valve needle. This machine has to be controlled to 1500rpm to get 50Hz AC out. As the load changes, the Propeller has to change settings on the needle servo to hold the rpm as steady to 1500 as possible. Have not tried this part of the Propeller control yet, but that`s gonna be the best part of it all. Can`t wait.....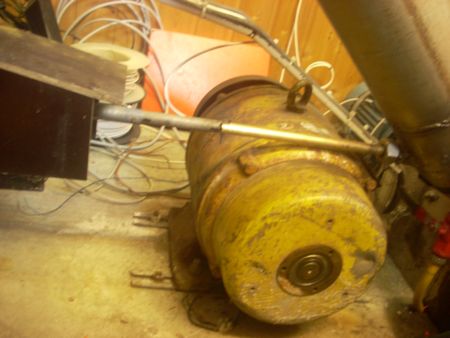 Have a nice summer 2014 all of you folks. Have fun!